In reviewing a full year of men's tennis, there's no need to cover new ground — it's been covered. You know the major stories. The time spent looking back at 2014 on the ATP World Tour is best used in the service of perspective and, in spots, appreciation for what's happened since early January.
The Davis Cup is its own separate drama — that will be written about next week in the final 2014 post at Attacking The Net. For now, here's a look back at the year that was on the ATP Tour:
*
If the past year in men's tennis could be reduced to a single theme — better yet, a single word — "contradictions" would be an excellent choice.
Roger Federer and Novak Djokovic were the two most consistent players on tour — Federer with more match wins, but Djokovic with more titles. Yet, Federer didn't win a major, nor did he win the World Tour Finals. He could very well lose the Davis Cup if he plays but isn't fully recovered. He will indeed lose the Davis Cup if he can't take the court at all. Year-long excellence (minus Rome and Roland Garros) would coexist with a big, fat Swiss bagel as far as Federer's most important 2014 goals are concerned.
As for Djokovic, the year-end world No. 1 has a Wimbledon title and a World Tour Finals trophy — two prizes in the greater London metropolitan area — but he bafflingly failed to make the final in either of the year's two hardcourt majors. His 2013 Roland Garros semifinal against Rafael Nadal was a quality match (not great, but certainly not bad). In 2014, Djokovic once again failed to play his best against Rafa at the French Open. There is so much Djokovic could have done in 2014 — he achieved richly, and yet at the same time, he left some money on the table. Djokovic, like Federer, must live with that kind of contradiction — high marks, consistent achievement… and yet some unclaimed goals of considerable weight and significance.
The trend continues as you go through the other notable names on the tour, both familiar and emergent.
*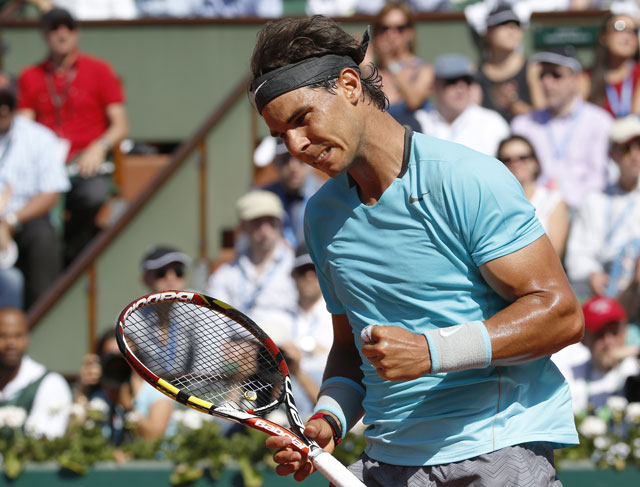 Rafael Nadal, his 2014 season marred by injuries at the front end (in the Australian Open) and then on the back end as well (post-Wimbledon with the wrist, then pre-Shanghai with appendicitis), nevertheless fought through the field to defend his Roland Garros title. Nadal's career has been increasingly limited and halted in recent years, as injuries have deprived the legend of doing more on the court. Yet, when Nadal is able to compete, he still fends off all comers on the terre battue of Paris. The contradiction of Nadal's year is just as sharp as it is for Federer or Djokovic, but it owns a different texture: There's more disappointment in relationship to injuries and forces not entirely under Rafa's control, but there's less frustration about results not attained or tournaments not won.
Stan Wawrinka is a towering contradiction unto himself. The man whose highs can be so high when he's on — never more evident than in his run to an Australian Open title, his first major — can then produce extremely low lows, as shown in his first-round flameout at Roland Garros and early exits in a number of Masters 1000 events. Wawrinka was impossible to figure out. He was consistent in his inconsistency. Just when you thought his Roland Garros disaster spelled doom for the rest of the year, he made the quarterfinals of Wimbledon on his worst surface, grass. Just when a quarterfinal showing at the U.S. Open pointed to a strong autumn hardcourt season, he bowed out early in Shanghai and Paris-Bercy. Just when his October pointed to a poor showing at the World Tour Finals, Wawrinka came within a point (four times) of beating Federer and making the championship match against Djokovic.
Want to predict how Wawrinka will perform in Davis Cup? Your guess is as good (or bad) as anyone's.
There was another first-time major winner in 2014: Marin Cilic captured the U.S. Open. He lost to Wawrinka in the World Tour Finals, but he showed glimpses in that match of the man who conquered New York. Cilic is, much like Wawrinka, a player of extremes in both quality of play and event-to-event results. With respect to 2015, he's even more of a mystery than Wawrinka, because we've at least had 10 months in which to see Wawrinka cope with the aftermath of his major title. Cilic? The answers will come in Melbourne in January and then in the Indian Wells-Miami double in March.
*
Contradictions apply to the other men who made 2014 notable on tour: Kei Nishikori, Milos Raonic, and Grigor Dimitrov.
While Djokovic was the center of attention at the just-concluded World Tour Finals — also its best player — Nishikori clearly set himself apart in London as the "best of the rest" in men's tennis, the player outside the Big Three (Djokovic, Federer, and Rafael Nadal) who has achieved at a consistently high level and shows the most promise for 2015 and beyond.
It's true that Cilic waxed Nishikori in the U.S. Open final, but Cilic — as said above — remains an up-and-down player. If you want to identify a consistent non-Big Three performer on the ATP Tour in 2014, it's Nishikori. He outfoxed Federer in Miami. He outplayed Nadal in the Madrid Masters 1000 final before his body gave out. He rebounded from injuries to rally against Raonic in the fourth round of the U.S. Open. He fended off Wawrinka in a thrilling five-set quarterfinal, and he stunned Djokovic in searing midday heat in the semis. Removed from his dazzling U.S. Open run, Nishikori repeatedly absorbed David Ferrer's typically tenacious tennis this year and always had an answer for the Spaniard.
Let's say a little more about Nishikori's 2014 mastery of Ferrer, especially since his most recent win over Ferrer in London ushered the U.S. Open runner-up into the semis of the World Tour Finals. Nishikori went 4-0 against Ferrer this year, but the way in which the Japanese star pulled off the feat is what's especially impressive: In Miami, Madrid, and Paris-Bercy, Nishikori won three-setters after having won tiebreaks by the minimum number of points (two). In all four of his wins over Ferrer — consistently one of the toughest outs on tour for players outside the Big Three — Nishikori won a third and deciding set.
Those last details offer a glimpse of the extent to which Nishikori has developed some of the finest fighting skills on tour. You can trust Djokovic, Nadal and Federer to regularly solve problems in the middle of tough matches. Nishikori currently stands behind them — but close to them — as far as coping skills are concerned. He has, for the moment, passed Ferrer and also Andy Murray as a player you just don't count out in an extended war of attrition.
The contradiction at the heart of Nishikori is this: Like Djokovic — only on a smaller scale — the Japanese star so often projects the body language of a player who is exhausted. Yet, it's precisely when the outward appearance is most discouraging that Nishikori buckles down and produces his most resolute tennis, working his way out of difficult situations. He did so at the U.S. Open, and he showcased that rare ability when beating Ferrer four times, never with particular ease.
If Nishikori's frail body holds up, he's going to contend for major titles in the coming years — this doesn't seem like a knee-jerk reaction to a "more-than-O-Kei" 2014; it seems like a response to a dramatic step forward in a player's career, affirmed many times over during the course of the season.
Milos Raonic and Grigor Dimitrov are the owners of simpler contradictions. Raonic is so cool and composed on court in terms of his demeanor, and yet he is so impatient as both a returner of serve and a player intent on hitting as many forehands as possible. When Tommy Robredo stands near the ad-court doubles alley to hit an inside-out forehand, it's positioning and court craft; when Raonic does the same, it's a setup for a Federer or a Djokovic to go down the line to the deuce court and win a point. Raonic has to develop his defensive game and court coverage for 2015. The mind seems to be in a good place.
For Grigor Dimitrov, it seems to be just the opposite.
When you look at the Bulgarian, you see a player who can hit just about all the shots there are to be hit. The Federer comparisons are tiresome, yes, but they didn't emerge just because — they emerged for a reason: Dimitrov can hit the ball in many different ways and shape a rally with a blend of styles. Court coverage is a concern, but for the most part, Dimitrov's main battle lies in the mind. Whether it's handling tough conditions, pressure-packed points, or particularly dogged opponents (or all of the above), Dimitrov's mental game has to be able to withstand adversity. Every elite tennis player — and virtually every successful run in a major tournament — requires the ability to win that one match which shouldn't have been won, or at the very least, could have been lost. Dimitrov typically falls short in those matches. He needs to show some steel beneath the gloves and his velvety-smooth touch.
Want to assess other notables on the ATP and (also) the WTA Tours? Feel free to use this review of 2014 results at the majors as something of a guide.
*
That's all for now. Next week's post on the 2014 Davis Cup Final will be the last post of the year here at Bloguin and Attacking The Net.